We are very sorry but we are fully booked!!!

Stayed tune, we will be more than pleased to welcome you for an another exclusive workshop in India.




"NEW TRENDS IN MULTI MODAL MOLECULAR IMAGING APPLICATIONS FOR ANIMAL STUDIES IN DRUG DISCOVERY"

November 20-21st, 2018



NIPER-Guwahati is one of the the premium institutes under the Department of Pharmaceuticals, Ministry of Chemicals and Fertilizers, Government of India. NIPER-Guwahati started functioning from the month of September, 2008. The main research focus is in the areas of pharmaceutical sciences, especially the multimodal molecular imaging and drug discovery.

The main focus of this conference will be on the recent technological developments in drug discovery and animal studies. There will be an opportunity for a lab tour and to experience the new research facilities of NIPER-G.

We will arrange a system demonstration and hands-on training on the first and unique Vevo LAZR-X imaging system installed in India which can be used in Cardiology, Oncology, Molecular Imaging and Neurobiology!
Scientific Program: Preliminary Agenda


Day 1: 20th November 2018
Venue: Kiranshree Grand, New Airport Road Mirzapur, Guwahati,


13:00 Welcome address – Dr. USN Murthy, Director, NIPER, Guwahati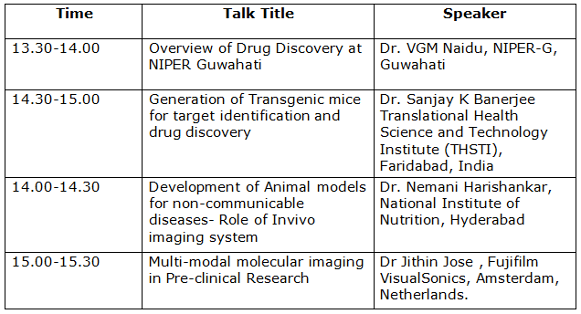 19:00 - 21:00 Dinner
Venue: Kiranshree Grand, New Airport Road Mirzapur, Guwahati

Day 2: 21st November 2018
Venue: NIPER-G, Lecture Hall, Guwahati,

Scientific Session 3

12.15-12.45 Round table discussion and Future perspectives

12:45-13.00 Vote of thanks and closing ceremony - Mr Kiran Kalla - Samitek Instruments

After the official program, there is time for more demos and discussions outside the workshop agenda. Join by contacting your territory representative!
Learn more about the Vevo LAZR-X high resolution multi-modal in vivo imaging platform:

Download Brochure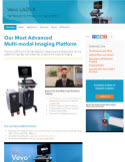 View Product Page